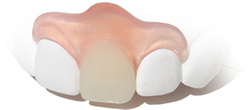 SINGLE-TOOTH
Bayflex™ Single Tooth Partial is lightweight yet durable, esthetic yet cost-effective. The same features that make Bayflex™ such an effective partial make for the ideal implant healing appliance.
We took our bestselling Bayflex™ material and added precision clasps for maximum retention. We fabricate from a pre-op impression, so your patient can walk out of surgery with a functional and esthetic provisional they can rely on.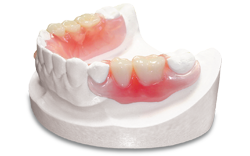 PARTIALS
The combination of our experience with flexible partials, and our pliant Bayflex™ material, allows for the for a reline or adding teeth to existing appliances.
Because of the pliant Bayflex™ material chairside adjustment is rarely necessary; however, Bayflex™ can easily be modified to suit your unique patient.
Restore your patient's confidence with our comfortable, and affordable Bayflex™ partial.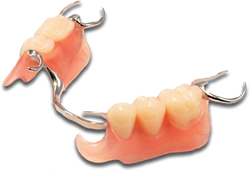 HYBRID
Bayflex™ hybrids are the best of both worlds. Our team of experts can design your cast frame to be retentive on the lingual surfaces of the teeth, hidden from view.
Bayflex™ cosmetic clasps are utilized on facial surfaces and virtually disappear when your patient smiles. Bayflex™ hybrids are a perfect selection for distal extension cases.